About Drum Percussion Studio
After 20 years teaching music and percussion in nearly every conceivable setting, Jason Currin has created DRUM Percussion Studio, a music school where everyone, young and young at heart comes together to experience, learn and share music.
DRUM Percussion Studio provides classes and performing ensembles for early learners through adults. A wide range of scholastic programming is offered to meet the needs of traditional schools, home schooling programs, and those with special needs, both on-site and at your location.
Whether you are seeking an introduction to music and rhythm, performance opportunities with others, preparation for college and career, or fun and stress relief, you can find your rhythm at DRUM Percussion Studio.
Mission:
DRUM Percussion Studio uses music and percussion as the vehicle to connect, educate and motivate students of all ages and abilities.  Our comprehensive holistic approach to music education is designed to go far beyond the drum – at the core, we teach essential life skills: focus, patience, self-control, work-ethic, teamwork, sharing, communication, success, and failure.  We strive to engage and inspire our students and audience to want to Learn More, Do More, and Be More.
Vision:
DRUM Percussion Studio aims to create a community of musicians, problem solvers, team-players, and artists through percussion education and entertainment.  Through lessons, classes, and ensembles or through scholastic events and performances, DRUM Percussion Studio educates and engages students and audiences in the wide world of percussion to instill an appreciation and love of music.
Who we are: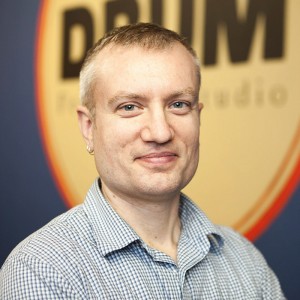 Jason Currin, Owner & Director
Jason Currin moved to Greenville, South Carolina in 2011 to create a unique school-wide curriculum rooted in World Percussion and the Performing Arts at Legacy Charter School. Since then he has also become an Education and Outreach performer for the Greenville Symphony Orchestra, and serves on faculty at the South Carolina Governor's School for the Arts and Humanities.
Mr. Currin is a graduate of the Berklee College of Music in Boston, Massachusetts where he was awarded the first grant from the Bryan Oliver Memorial Fund for Outstanding Artistic Achievement and was a winner of the North American Talent Search. An active freelance educator, performer and composer, he has worked with thousands of students over the past 20 years, many of whom have earned scholarship and degrees from some of the nation's finest institutions.
As a performer, Currin has appeared around the world: in France and the Netherlands with Live Ambiance, throughout Central Europe with Halfway to Hoboken, and for two European tours as Principal percussionist with MIT Symphony Orchestra. He is featured on many recordings, including ARC Records' Percussion of the World, Rhythm Journey and the Paris Conservatory recording of third-stream duo Halfway to Hoboken. Stateside, Mr. Currin performed as guest percussionist with Boston Musica Viva, a top interpreter of contemporary chamber music, and as Principal percussionist with Soria Chamber Players. As a member of the Young Audiences, Woodruff Arts Center (Atlanta) world percussion trio, Ritmo Blu, "Mr. Jason" performed for more than 30,000 students annually, and the trio's DVD, Ritmo Blu: Backstage Pass is a staple in music classrooms everywhere. His rock drumming may be heard in the soundtracks to television shows featured on the networks of MTV, A&E and CW.
As a composer, Mr. Currin has received a number of awards and commendations, including first place in the Rivers Music School Composition Contest and runner-up in the international contest held by 20th Century composer Stuart Saunders-Smith. His original works have been performed across the globe, and in 2001, featured at the 23rd Annual Seminar on Contemporary Music for the Young.
Mr. Currin has extensive experience working with theater and dance companies, having performed and composed for a number of venues and festivals, including Mobius (Boston), Pan9 (Boston), and Oasis 1 & 2 (NYC). He performed with Boston Conservatory of Dance and served as accompanist for modern dance classes at the Tisch School of Performance Arts of New York University. In 2012, Jason Currin joined the Dance Department of South Carolina Governor's School for the Arts and Humanities where he has created an innovative and original music curriculum for dance students, and produced several unique works combining music performance and movement. He also serves as accompanist and audio engineer. Together, he and wife, Leslie are raising two bright, dancing, musicians, Olive and Silas.
Cassidy Reynolds, Assistant Director
Cassidy Reynolds has been drumming for as long as she can remember, but officially began her music studies at age 8 as a percussionist in a homeschool community concert band. She went on to study percussion at the South Carolina Governor's School for the Arts and Humanities and graduated with honors from Presbyterian College with a degree in Music Education. Cassidy has experience as an elementary school music teacher, a high school percussion ensemble director, a private lesson instructor, and has served as a percussion judge for SC Region and All-State Bands. As Assistant Director of DRUM Percussion Studio, Cassidy assists with planning class curriculum, performances & events, teaching, outreach & development, studio administration, and scholastic programming. In addition to percussion, Cassidy enjoys playing the Great Highland Bagpipes and Handbells. She lives in Greenville, SC with her husband, Chance, and their dog, Kodie.

Stephanie Cureton, Special Events Coordinator
Stephanie Cureton serves DRUM Percussion Studio as Special Events Coordinator. Stephanie comes to our studio with a wealth of experience, having served within the Admissions, Recruitment, and Public Relations department at the Governor's School for Arts and Humanities. She also serves as Director and Instructor at English Theatre Arts at Dance United. Stephanie received a Bachelor in Arts degree in Dance from Agnes Scott College and will pursue a masters in the future.
Leslie Currin, Accounts
Though Leslie Currin is not a percussionist herself, she has always been surrounded by drummers! Growing up, Leslie's father was a drummer (we even have his old kit at the studio) and she is now living in a house full of percussionists; raising two of her own with her husband, Jason. Leslie works in corporate law and handles Accounts for DRUM Percussion Studio. She holds a degree in English from Mercer University.
Audrey Hamilton, Instructor
Growing up in a large musical family, Audrey Hamilton was introduced to singing and piano at an early age. She attended the Fine Arts Center For Performing Arts in high school, studying classical voice, percussion, and music theory. She went on to continue voice and percussion at Converse College where she is pursuing a degree in Music Therapy; an avenue that combines her passion for helping others and her love of music. Audrey performs with multiple artists and bands in Upstate SC and is thrilled to have found DRUM Percussion Studio where she can connect and collaborate with others and explore percussion with the community.